History
The studies and research center of folksongs and folkdances "GRUPPO FOLK AMASTRA", set up on the 13/07/1994 in Mistretta (ME), by Angelo Scolaro and Patrizia De Caro, aims to let people know about their island's and, above all, their village's traditions.
Our association, composed of 40 adult people and 40 young childrens, is a member of F.I.T.P.(Italian Federation of Folk Traditions) which performs both in Italy and abroad and moreover is one Organization not lucrative of social usefullness (ONLUS).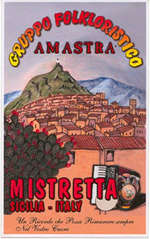 The folk group Amastra has been doing a lot of work from the beginning, carrying out cultural exchanges with several Italian regions and villages, such as Sardinia in 1995, Calabria (still in touch), Marche (2002) and many Sicilian villages. It has also had cultural exchanges with other countries, infact in 1996 it went to the Slovak Republic, in 1998 it took part in The Columbus Day manifestation in New York City, in occasion of the world meeting to celebrate the 500th anniversary of the discovery of the U.S.A. by Cristopher Columbus, in 1999 it went to Spain.
In 2000 the group went to France, Steenwoord, for an important manifestation that grouped Giant from all over the world, and in the same year it took part in an International Festival in Atina, (FR). In 2001 the group went to Greece, still in Spain for the more important International Festival of the Folklore of the Mediterranean, in Polonia.
Our activity goes on organizing international meeting with folkgroups from all over the world and giving them hospitality, last of all, a professional folk group coming from Argentina, exactly from Santiago del Estero.
The member of this group were our guests for ten days so they werw able to perform in several village near Mistretta. Their performances were very interesting as, in the past, many people from those vallages emigrated to Santiago del Estero and they still live there.
Our group can also be defined an itinerant museum, as it takes around and shows tools once in farm works, traditional costumes and ancient music and songs.
The Studies Center of popular traditions also aims to get young people closer to traditions, meeting them directly at school and organizing summer and winter manifestations.
It's also important the contribution we have been giving to volunteers associations, performing among elderly people and disabled people. We also stir up emotions and happiness memories in our emigrants abroad.
In the future we intend to improve our undertaking and to intensify our unlucrative activities.